Fulbright Grants for Teaching, Research, Career Development, or Institutional Collaboration
Type
Austrian Fulbright Scholars
Grant Deadline
30 October 2022
Starting Date
2023–24 academic year
Visit a US host institution to teach, do research, pursue career development, or foster institutional collaboration.
Submit an Application
Applications must be submitted online via the IIE platform. Before applying, please read through the information provided below.
Grant Summary
These grants allow highly qualified academics affiliated with Austrian institutions to visit US host institutions for a minimum of three and a maximum of four months for the purpose of teaching, research, career development, or institutional collaboration. Ideally, projects address two or more of these aspects.
Grantees visit a US institution to share their expertise, establish or strengthen institutional ties, gain international experience, and learn about American culture while building capacity at their host institution. Grantees are competitively selected based on their academic qualifications, teaching and research experience and motivation, skill sets, and ability to make a significant contribution to both their home and host institution. They should also be prepared to share information about Fulbright Austria opportunities at their home and host institutions.
While applicants from all fields are eligible, Fulbright Austria especially encourages proposals that fulfill the mission of the Fulbright Program and contribute to the better understanding of the relationship between Austria and the United States on a cultural, educational, and institutional level. Fulbright Austria welcomes proposals that reach out to underserved populations and/or contribute to knowledge transfer ("science to public").
Purpose of Visit
Fulbright Austria is particularly interested in applications that promote the mutual understanding between Austria and the US and advance collaboration between Austrian and US institutions (i.e., in comparative research questions, transcultural topics, projects with bilateral relevance, collaborative research, and institutional development).
The project proposal should thus address:
The potential impact of the project
The applicant's contribution to the development of new or strengthening of existing institutional collaborations and networks
The applicant's motivation to teach in the US, engage in joint research and American (institutional) culture, and serve as an ambassador for Austrian academia
As the grantee's home and host institution both benefit from this collaboration, Fulbright Austria expects the institution to support grantees in covering costs incurred as a result of the institutional collaboration.
Eligibility Criteria
PhD or similar qualification
Substantial teaching and/or research experience, or artistic qualification
Grant Benefits
Flexible grant period of 3–4 months
Maintenance grant of $4,000 per month
Lump-sum travel grant of €1,500
J-1 visa for exchange visitors (please note that J-1 visa holders in the "Professor/Research Scholar" category are subject to specific regulations, such as the 2-year home residency and a 24-month bar. During this period, it is possible to re-enter the US on a tourist visa but not on a "temporary working visa" or an "immigrant visa.")
The following items are not covered by the grant:
"Affiliation fees," "service fees," or similar fees that some US institutions require visiting scholars to pay in order to receive visiting-scholar status and/or get access to libraries, laboratories, IT services, etc. (Fulbright Austria recommends that you contact your prospective host institution's International Office and ask them if visiting scholars are subject to such fees.)
Costs of any university health plan that the host institution might require visiting scholars to purchase
My Fulbright year shaped my whole life. The contacts I made as a Fulbrighter have proved indispensable for my future career.

-Wynfrid Kriegleder, Berea College and Duke University 1979–80 and 1989–90
Application Materials
Project proposal (approx. five pages) and syllabi (if teaching is a component of the visit)
Letter of invitation from an accredited US institution confirming the institution's ability to host the applicant and their interest in institutional collaboration. The letter should also include a commitment to cost-sharing or in-kind contributions
Letter of support from the applicant's home institution. The letter should evaluate the potential for collaboration between the home and host institutions as well as the applicant's suitability to be an ambassador of Austrian academia and of Fulbright Austria. The letter should also reflect the home institution's commitment to support and facilitate the applicant's visit to the US
Three letters of reference
Potential applicants should bear in mind the following:
Research/Teaching stays that begin before the start of the academic year can only be considered under exceptional circumstances. Applicants who plan a stay during the semester breaks need to explain their reasons in their application.
Applications in the field of medicine cannot be considered, with the exception of public health and similar disciplines.
It is not possible to be funded through Fulbright whilst receiving a stipend from the Austrian Science Fund (FWF) or the Austrian Academy of Sciences (ÖAW).
2012–13
Barbara Brenner
Vienna University of Economics and Business
Department of Global Trade
Louise Hecht
Palacky University
Kurt and Ursula Schubert Center of Jewish Studies
2013–14
Thomas Fahringer
University of Innsbruck
Institute of Computer Science
Martina Hoeckner
University of Innsbruck
Institute of Zoology
Thomas Koenig
WWTF - Vienna Science and Technology Fund
Office of the President of the ERC
Barbara Strasser
Institute for Nutritional Sciences and Physiology
Department for Medical Sciences and Health Systems Management
2014–15
Gernot Paulus
Carinthia University of Applied Sciences
Geoinformation and Environmental Technologies
Petra Riefler
University of Vienna
International Marketing - Faculty of Business, Economics and Statistics

Silvia Schultermandl
University of Graz
Department of American Studies
Marc Streit
Johannes Kepler University Linz
Institute of Computer Graphics
Thomas Wallnig
University of Vienna
Department of History
2015–16
Romana Radlwimmer
University of Vienna/Lissabon
Departamento de Estudos Românicos
Rafaela Schinegger
University of Natural Resources and Life Sciences, Vienna
Institute of Hydrobiology and Aquatic Ecosystem Management
Bernhard Standl-Gruber
University of Vienna
CSLEARN
Christian Stauffer
University of Natural Resources and Life Sciences, Vienna
Institute of Forest Entomology, Forest Pathology and Forest Protection
2016–17
Christoph Clar
University of Natural Resources and Life Sciences; Vienna
Institute of Forest, Environmental and Natural Resource Policy
Thomas Hein
University of Natural Resources and Life Sciences, Vienna
Institute of Hydrobiology and Aquatic Ecosystem Management
Andrea Trenkwalder-Egger
MCI - Management Center Innsbruck
Social Work
Harald Wiltsche
University of Graz
Department of Philosophy
2017–18
Andreas Holzinger
University of Innsbruck
Department of Botany
Kerstin Hödlmoser
University of Salzburg
Centre for Cognitive Neuroscience, Department of Psychology
Irene Maier
University of Vienna
Department of Nutritional Sciences
2018–19
Ulrich Kral
TU Wien
Institute for Water Quality and Resource Management
Stefan Rabitsch
University of Graz
Department of American Studies
Rebecca Unterberger
University of Klagenfurt
Robert-Musil-Institut
Ingeborg Zechner
University of Salzburg
Department of Musicology and Dance Studies
2019–20
Ingrid Geier
Salzburg University College of Teacher Education
Education, Science and Research
Katherina Kinzel
University of Vienna
Department of Philosophy
Christina Traxler
University of Vienna
Department of Historical Theology
2021–22
Lora Ellen Hayek
University of Innsbruck
Department of Political Science
Ingeborg Lang
University of Vienna
Faculty of Life Sciences
Robert Spindler
Free University of Bozen-Bolzano
Faculty of Economics and Management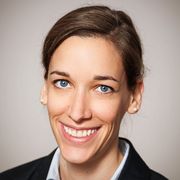 Contact Person
Franziska Brunner
Scholar Program Officer
Liaison for the Fulbright Specialist Program, Intercountry Lecture Program, and Fulbright Schuman Program
TEL. +43-1-236 7878 - 15
FBrunner@fulbright.at